Chrome Ball Replacement for Flag Pole
Chrome Ball is the same one that comes with each of our RV Flag Poles (Deluxe 22-foot, 2 flag).  If you lost yours, this is for you!  It's the same original ball that came with your flag pole.  Super shiny.  Look you can see my reflection in the photo!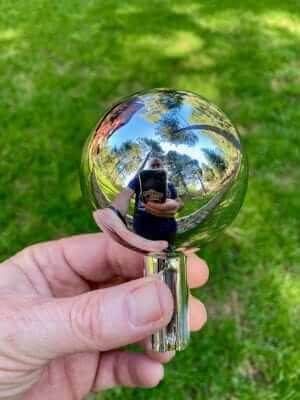 Check out our Hitched4fun YouTube Channel for installation helps and ideas.
After you replace your Chrome Ball, consider another upgrade to your flagpole?  Add an LED Camp Locator. Our 12V LED Camp Locator w/remote by Pyramid will certainly be the talk around your campsite.  Your friends are sure to be dazzled with due to over 300 light patterns!!  Leave it in demo mode to preview all programs or select your favorite.  Above all you're in command because of it's easy to use remote control.  Finally, your campsite is easily located due to the super bright LEDs!
While you're at it.  You need a Dutch Oven to cook dinner in at camp too.  Check our great selection of Dutch Ovens out.
Order your Chrome Ball Replacement for Flagpole today.