Lodge Cast Iron 4-in-1 Camp Dutch Oven Tool
Lodge Cast Iron 4-in-1 Camp Dutch Oven Tool is the ultimate multitasker for campsite cooking. It protects your hands from heat, keeps your cookware off the ground, and maximizes your cooking area. Use as cook stand, a lid lifter, lid stand, and bail lifter.
Protects your hands from heat as a lid or bail lifter
Made of durable 9 mm bar stock
Folds up for easy storage
High temperature black finish
Fits inside all Camp Dutch Ovens 10 inches and larger
Made in China
SKU: A5-11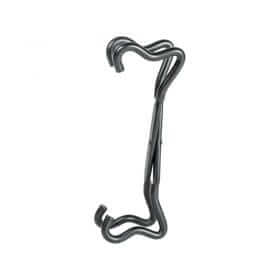 Get Cooking Today!!  Are you looking to dive in with both feet and spice up your RV Campsite?  Do you want to show up your camping buddies with your skills??  We bet you do!  You can cook anything you cook at home in a dutch oven.  This cook book will help you get started.  (Hint – You get this book FREE with any Lodge Cast Iron Camp Dutch Oven you purchase from Hitched4fun.com.)  From pies, to breads, stews, pizza, cobblers, prime rib, and more.
We sell a wide selection of Dutch Ovens.  You can do it!!  Here are a few quick links to wet your appetite, International Dutch Oven Society and the United States Dutch Oven Society – USDOS.  One of our favorite groups it the FB Dutch Oven Cooking Group which has over 43k members!!