RV Flag Pole Ramp Mount
This mount can be used with virtually any RV with a rear ramp and was specifically made for our RV Flag Pole (Deluxe 22-foot, 2 flag).  We know many of you love your Toy Haulers and need a good option for mounting your flagpole.  This mount is it!  You can use it with your ramp in open or closed positions.  No need to take your flagpole down every time you open and close your ramp!
Made in America.  Manufacturer recently made design improvements.  For example, they strengthened their design by 50% to handle the most demanding winds when using our 22′ flagpole.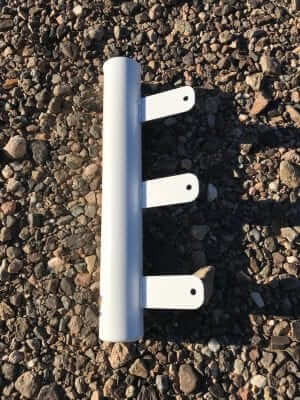 Are you looking for a package deal?  Save $$.  See our RV Flag Pole (Deluxe 22-foot, 2 flag) Package and our Ultimate LED Camp Locator Package.
Our YouTube Channel has various videos showing our packages.  Watch Aaron, the owner of Hitched4fun.com explain how how to install and wire your flagpole today.  Additionally, he demonstrates how to run your wires externally and how modify your flagpole so that the wires can run inside. It's not too hard to do and you will love the end result.  It all fits perfectly in this RV Flag Pole Ramp Mount.
It's time to start flying your flags!!