Lodge Camp Dutch Oven Starter Kit
Each Starter Kit includes a Lodge Camp Dutch Oven,  Tote Bag, Seasoning Spray, Oven Lifter, 4-in-1 Tool, and 101 Cook Book.
We have 6 kit options for you: 2 Quart, 4 Quart, 5 Quart, 6 Quart, 8 Quart, or 10 Quart.  Starting at $119.99.  Great Savings!!
Our Starter Kit is custom designed by Hitched4fun.com.  They include everything you need to jump right into the hobby of dutch oven cooking.  Yum!!  All you need to add is briquettes, ingredients, time, family, and fun.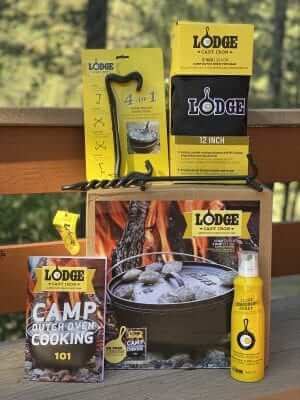 Lodge Camp Dutch Ovens are a great addition to any RV, Trailer, or 5th Wheel adventure.
You can pretty much cook anything you do at home in a dutch oven with little or no modification.  It's a whole lot easier than you think!  Checkout our YouTube Channel for easy recipes you can try.  Aaron has an Apple Spice Cobbler recipe that will make you the most popular person in camp.  Read his article on the history of Dutch Oven's and learn how to make a cobbler yourself.
A Dutch Oven was most assuredly one of the most valuable items to own right up there with a horse, gun, sturdy bedroll, and a gold pan!  Due to their versatility, early Colonists and settlers, hunters, trappers, and campers of all types found them to be a most useful utensil.  Today, the States of Idaho and Utah lead the Nation in Dutch Oven use.  Give it a try!!  Let Aaron show you what's our kit.