Ultimate

LED Camp Locator Package
Includes a 300 light pattern LED Camp Locator w/remote, Deluxe 22-Foot Heavy Duty Collapsible Fiberglass Flagpole, 3 x 5 ft Poly USA Flag, and mount!!    Easily installed on your RV, Trailer or 5th Wheel with simple tools.  Get your Ultimate LED Camp Locator Package today!!  Simply connect to your 12 Volt DC system.
Do you have a hard time finding your RV, Trailer, or 5th Wheel at night??  Is your campsite lacking personality??  Do you need something to brighten up your night sky??  Want to have more fun??  If this sounds familiar, you need this Package!!
We have 4 mount options for you: Ladder, Tire, Hitch, or Ramp.  Great savings!!
You won't believe how bright this LED Camp Locator is.  You can see it for miles away at night.  It's a super cool conversation piece too.  With 300 light patterns, you are sure to fine more than one favorite setting.  Or leave it in auto mode and it will cycle through each one for hours of fun.
Standard set up is easy.  Watch Aaron show you how to install this package in just a few minutes.
If you're wanting a cleaner looking flagpole with no external wires, watch this video of Aaron.  He explains how you can modify your LED Camp Locator so that the wires can run inside your fiberglass flagpole.  It's not too hard to do and you will love the end result.  Some drilling required. (Bolt and nut not included.  You will have to drill and install your own bolt to secure it to your pole.)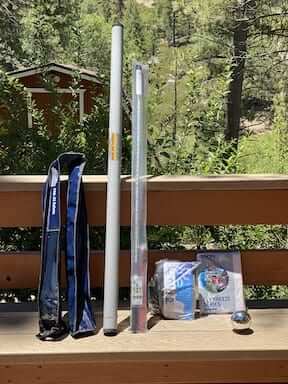 To see more videos, check out our YouTube Channel.  Click here.