Downlight "Y" Cable by Pyramid LED Whips
This "Y" cable allows the user to power both the sold separately Flagpole Downlight and LED Camp Locator.  As shown below.  This is a really cool addition to your flagpole set up.  The Flagpole Downlight automatically shuts off during the day and comes on at dusk.  The LED Camp Locator can be turned on and off with it's remote control.  No need to unplug at night.  It's easy!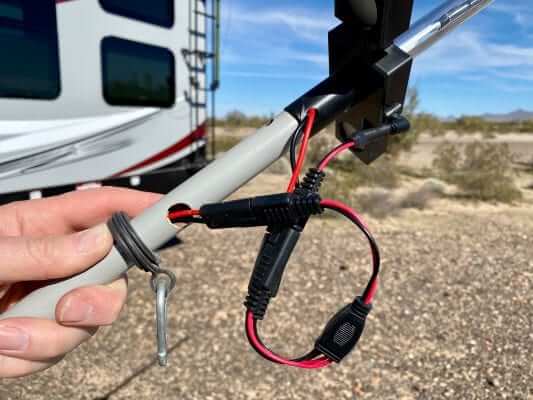 Users can run the 12V power inside the flagpole as shown in the picture above.  Wiring me also be installed externally along the side of the extended flagpole.
If running your power wire externally, we recommend running the wire through the "key rings".  They are located at the end of each locking pin supplied with the flagpole as shown below.