Locking Pins for Fiberglass Flag Pole (package of 3)
Each RV Flag Pole (Deluxe 22-foot, 2 flag) comes with 3 standard locking pins for the bottom 3 pole segments.  For added safety, install one pin on each of the 3 upper pole segments.  This is due to the additional weight of the LED Camp Locator.
With the addition of these 3 pins, route the wires from the LED Camp Locator on the exterior of the pole.  Finally, no more tangled wires with flags!!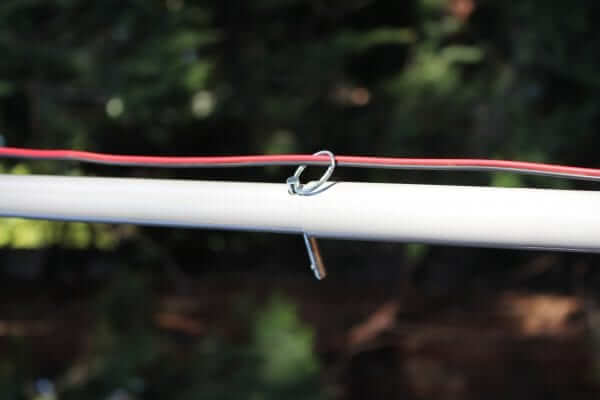 Pin diameter is 1/4″ by 2″ long.
Are you looking for a package deal?  Save $$.  Then, see our RV Flag Pole (Deluxe 22-foot, 2 flag) Package and our Ultimate LED Camp Locator Package.
If you love to tailgate, this is the perfect mount for you!  Show off your USA and team flag at the game!!  Installs in seconds.  Why wait??
Our YouTube Channel has various videos showing our packages.  Watch Aaron, the owner of Hitched4fun.com explain how how to install and wire your flagpole today.  Additionally, he demonstrates how to run your wires externally and how modify your flagpole so that the wires can run inside. It's not too hard to do and you will love the end result.  It all fits perfectly in this RV Flag Pole Hitch Mount.
It's time to start flying your flags!!